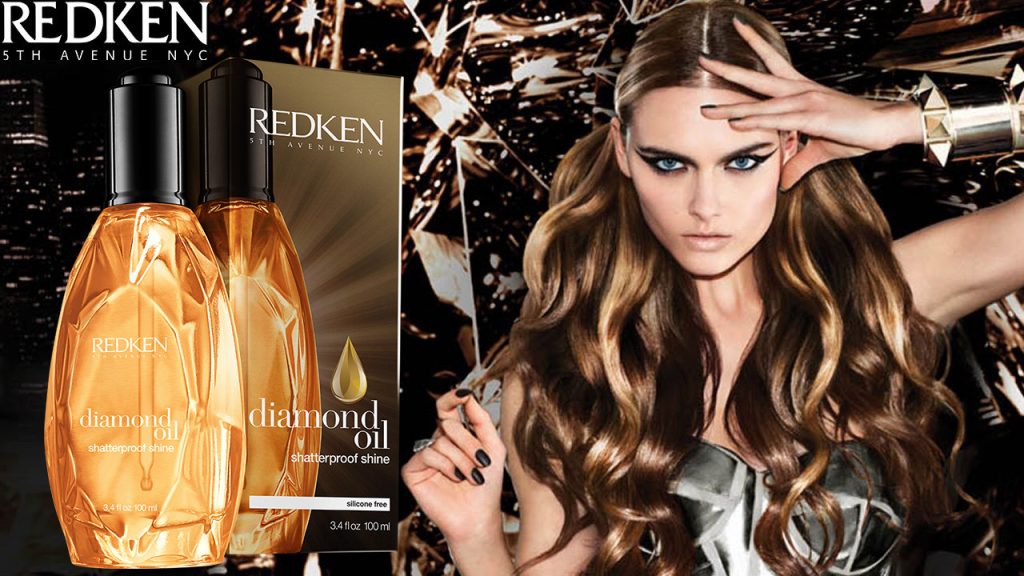 Three natural oils make Redken Diamond Oil a really effective product. They not only nourish and nurture but also sooth and regenerate. If you really want to have healthy hair and scalp, do not hesitate and test the oil today.
You will not see what it does, until you start the treatment.
What are the effects and properties of Redken Diamond Oil?
Redken Diamond Oil strengthens hair roots, deeply nourishes wisps and nurtures scalp. It smooths strands, prevents the formation of tangles. Facilitates combing and accelerates drying. It is also helpful in styling hair. Thanks to it, hair is not static or poofy. What is more, oil gives your wisps beautiful shine. It is very quickly absorbed, therefore, strands are supplied with all the nutrients contained in the oil.
Redken Diamond Oil comprise three natural oils: peach, camellia and coriander. The first one, peach oil, has moisturising and soothing effects. It is recommended for sensitive scalp. It may be helpful in the fight against various dermatological diseases. Camellia oil helps to maintain an adequate level of water, prevents hair loss and cures dandruff. Thanks to it, hair is smooth, shiny and beautiful. The last of the components, coriander oil, may be useful in the treatment of psoriasis and excessive hair loss. Restores split ends and prevents breaking and brittling of the strands.
How to use Redken Diamond Oil?
Redken Diamond Oil can be used in six different ways. Apply Oil on dry hair and scalp. Wait a few minutes, and then, thoroughly wash it off. Cosmetic works well as an overnight treatment or as an addition to masks. Redken Diamond Oil applied before drying prevents frizz, smooths and tames unruly strands. The products can also be used on dry hair, dry scalp in order to reduce frizzy hair and sooth irritation. Both the texture and the applicator in the form of a pipette will facilitate every application.
Do you know where to buy Redken Diamond Oil?
You can find the product in warehouses and salons cooperating with this brand. Additionally, you can also buy it online at the manufacturer's website or on other pages offering the sale of hair care cosmetics. Therefore, the price of Redken Diamond Oil will vary depending on the place of purchase. Do not forget to read the comments about the product. For many girls who want to improve the condition of their strands, opinions are very important.
Great composition, nice package and a pretty good performance. This is what Redken Diamond Oil provides. If your desire is to have smooth, soft and beautiful hair, then you should definitely use the oil. Look through the reviews, compare prices and then, go shopping. Very interesting solution of the brand is that you can buy the cosmetic in some hair salons. This proves that you can be sure of the amazing effects and properties of Redken Diamond Oil. Another advantage of the product is undoubtedly its application. The bottle is equipped with a pipette, which will facilitate every application.
Advantages:
smooths and moisturises hair
facilitates styling and combing hair
easy application
comprise natural oils
very nice bottle
Disadvantages:
available online and in larger beauty salons
we have to wait long for the effects
too strong scent
does not provide gloss too well
the bottle can by easily damaged