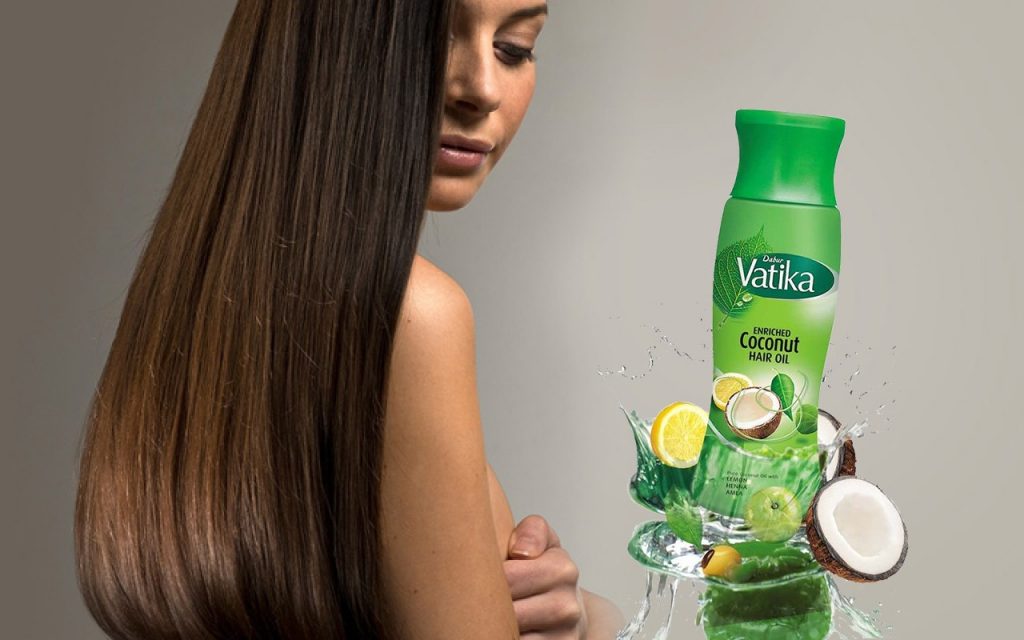 Dabur Vatika Coconut oil for hair is a truly Indian product. It contains plant extracts and essential oils, which comprehensively take care of hair and scalp. Thanks to natural ingredients, your hair will be as you have always dreamed of.
The cosmetic has moisturising, smoothing effects and adds shine to even the most damaged and dry wisps. You cannot not test it.
What are the effects and properties of Dabur Vatika Coconut oil?
Coconut oil for hair Amla Dabur strengthens hair, nourishes the roots and nurtures the scalp. It prevents dandruff, provides shine and moisturises. Natural ingredients contained in the cosmetic delay ageing processes. Oil provides hair lustre, facilitates brushing and styling, additionally, smooths and tames unruly strands. Similar products are used by Indian women. Just take a look at their hair and you will instantly have the same desire. If you want to fulfil your dream of having beautiful hair, then you should apply Dabur Amla coconut oil.
Moreover, in the composition you will find: coconut oil, lemon oil, rosemary oil, amla extract, henna and six Indian herbs. Lemon oil has antiseptic and antibacterial properties. It provides the correct condition of scalp and hair. Rosemary oil stimulates the growth of new hair. Moreover, it improves blood circulation in the scalp, prevents hair loss and dandruff. It is an ideal preparation for oily scalp care.
How to use Dabur Vatika Coconut oil?
Coconut hair oil Dabur Vatika has a thick consistency. Therefore, before each application it must be warmed up to allow the formula of the cosmetic to change into liquid. Then, apply oil on the whole hair and scalp. After about an hour, thoroughly wash the product off with a gentle shampoo. Much better results will be achieved after leaving it overnight, or doing the treatment called hair oiling. If you want to do the second one, apply a large portion of Dabur Vatika coconut oil on your hair. Then, put on a plastic shower cap and cover your pillow with a towel. In the morning, wash your hair; repeat this step twice.
Do you know where to buy Dabur Vatika Coconut oil?
This is one of the very few cosmetics from this ranking, which you must buy in healthy food stores. Dabur Vatika Coconut oil for hair is also available on the Internet and in some stationary shops selling cosmetic products and accessories. Keep in mind that low price of the product may indicate poor quality. There are different opinions of girls who have already used the oil. However, if you want to see for yourself how this Indian product works, you must perform the treatment.
Although it is quite hardly available, none of the girls has any doubts to its action. Dabur Vatika Coconut hair oil is a typically Indian cosmetic, with the content of vegetable oils and herbal extracts commonly used in India. It is hardly surprising that the effects and properties are so great. Unfortunately, the low price of oil indicates its poor quality; which is why even good opinions on the product might not be enough to convince you to buy Dabur Vatika. The decision is up to you: if you would like to have hair like Indian women, then you must try out this coconut oil. However, before buying the product, remember to make sure whether the product is appropriate to the needs of your hair and scalp.
Advantages:
includes coconut oil and other ingredients of vegetable origin
smooths, provides shine and tames unruly strands
has pleasant coconut scent
by using this oil, you can see how Indian women take care of their hair
moisturises and restores damaged strands
Disadvantages:
oil is hardly available
the price is adequate to its quality
before each application, the product must be warmed up
before you buy this cosmetic, make sure whether it will suit the needs of your hair and scalp.
if you leave the oil on hair for more than 12 hours, it may grease your scalp.