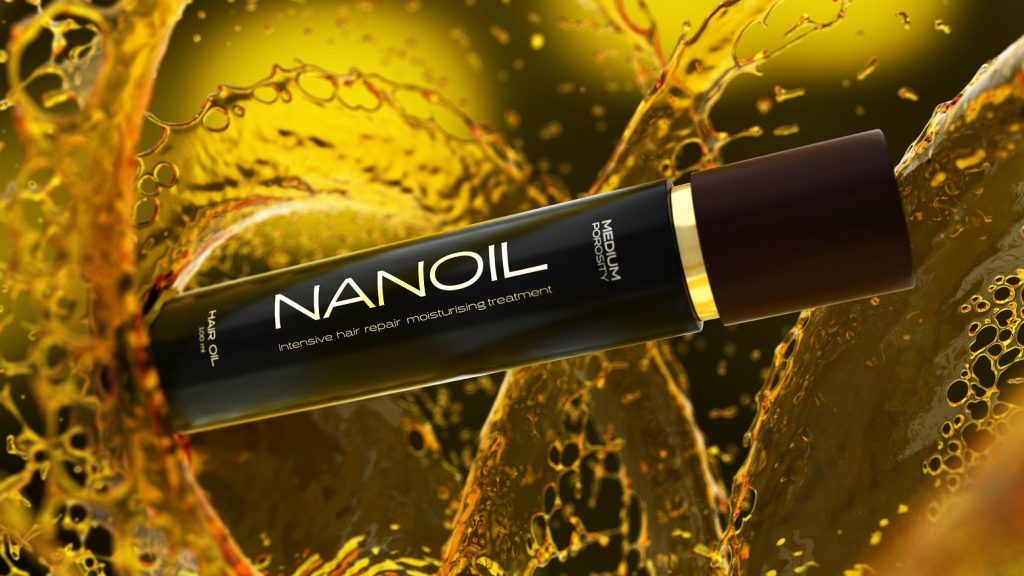 If your hair is damaged, difficult to style and its ends split, then Nanoil Hair Oil will be the best choice for you. By creating three different variants of the product, each girl will be able to beautify her strands and scalp.
You can choose from the following types of oils: for low, medium and high porosity hair.
What are the effects and properties of Nanoil Hair Oil?
Oil for low porosity hair prevents the scalp from greasing, lifts the strands at the roots and protects natural colour from fading. It prevents ends from splitting, makes the entire hair smooth, soft and shiny, facilitates combing and reduces blow-drying time. Nanoil For Medium Porosity Hair prevents the ends from damage and restores the scalp's proper pH. Moreover, it provides many nutrients, deeply moisturises and tames unruly strands. Nanoil For High Porosity Hair smooths and polishes strands, moisturises the scalp and strengthens the hair follicles. It prevents the ends from splitting and inhibits excessive hair loss. It protects the strands from the action of UV rays, free radicals, detergents and other harmful factors.
Nanoil Hair Oils contain many beneficial ingredients. The version for high porosity hair includes Almond Oil, Argan Oil, Evening Primrose Oil, Avocado Oil, Maracuja Oil, Cotton Seed Oil as well as panthenol, keratin, lanolin, Kerastim, Baicapil, UV filter, vitamin E and silk. Nanoil For Medium Porosity Hair contains Macadamia Oil, Argan Oil, Marula Oil, Jojoba Oil, Maracuja Oil, Coconut Oil, Keratin, Baicapil, Silk, Vitamin A and E and sunscreen. In the version designed for low porosity hair, you will find the following ingredients: Siberian Pine Oil, Coconut Oil, Argan Oil, Castor Oil, Shea butter, Maracuja Oil, Babassu Oil, Monoi Oil, Cupuacu Oil and panthenol, Kerastim, Baicapil, UV filter, vitamin A and E.
How to use Nanoil Hair Oil?
Another advantage of Nanoil Hair Oil is that you can use it whenever you want. Whether you apply it before or after shampooing is entirely up to you. You might as well use it as a serum for hair ends or rub it into your scalp. Thanks to the easy-to-use applicator, the process is quick and easy. Simply apply it wait for the stunning results.
Do you know where to buy Nanoil Hair Oil?
You do not need to look far for the product. Just order it from the official website and it will be delivered to your door in no time. Also, visit the web page for more useful information referring to the application, composition and properties of the cosmetic.
Nanoil Hair Oils will take care of your hair and scalp thoroughly. The best thing about the product is that the producer thought of various hair types and decided to create a cosmetic that would be the answer to particular hair problems. Therefore, we have Nanoil For Low Porosity Hair, Nanoil For Medium Porosity Hair, Nanoil For High Porosity Hair. All three versions are enriched with extra valuable ingredients that will enhance the beauty of your hair. You will be delighted with the effects of the treatment.
Advantages:
includes oils, vitamins, UV filter, and other valuable components
smooths, polishes and softens hair
facilitates hot styling
nourishes and moisturises the scalp
easy to use
three available versions for low, high and medium porosity
can be bought online
restores hair's shine and good condition
Disadvantages:
the scent may not appeal to everyone