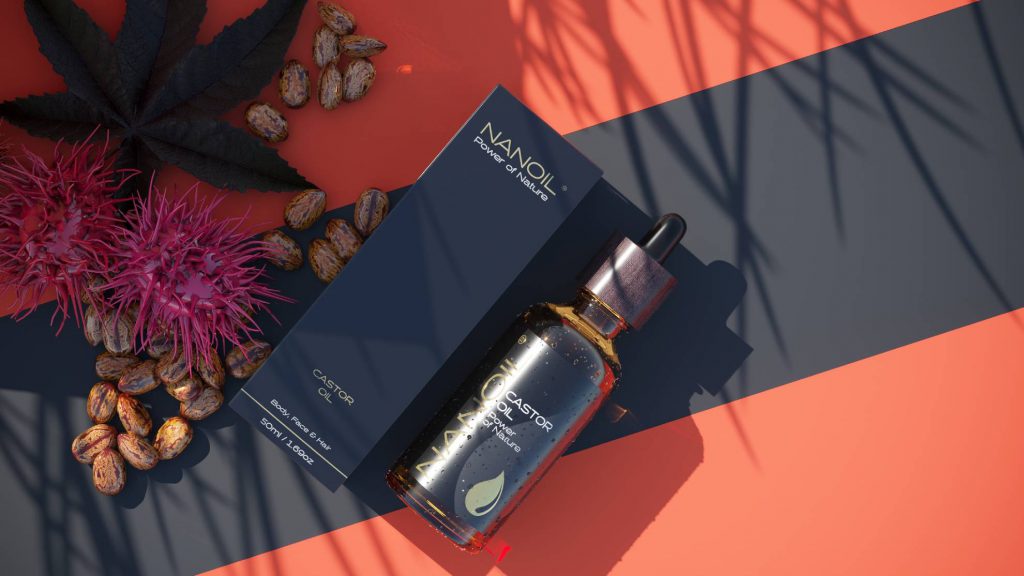 Are you dreaming of having long, strong and thick hair? If you are, then Nanoil Castor Oil makes the best option for you.
This inconspicuous, natural and cold-pressed oil holds a tremendous power. Discover all properties of Nanoil Castor Oil.
What are the effects and properties of Nanoil Castor Oil?
Natural castor oil isn't only multi-tasking natural product but also it's truly indispensable in hair care. It contains unique ricinoleic acid displaying antibacterial properties. This makes the oil potent enough to deal with problematic acne and leave skin deeply cleansed (including scalp). Castor oil can be used to create OCM blends, to remove makeup and as an ingredient of nourishing masks.
A good side of this oil is the strengthening and detoxifying action that it offers – when massaged into scalp, the oil stimulates blood flow, regenerates hair follicles and encourages faster hair growth. As a result, within a few weeks strands become healthier, are more elastic, stronger and thicker. With time the hair gets more voluminous, grows long quicker and, additionally, it becomes darker and noticeably more shiny.
The same way Nanoil Castor Oil affects eyelashes that become stronger, thicker and longer. It's a pretty good natural conditioner able to stimulate lash growth and encourages hair regeneration; in fact, it serves fingernails equally well. It strengthens brittle and breakable nail plate which is why fingernails become stronger, more resistant to damage and grow faster.
How to use Nanoil Castor Oil?
This is one of the richest and thickest oils that should be combined with other lighter oils before applying it directly to body (best if the oil belongs to the same Nanoil series). Such a blend can be massaged into scalp, applied to the entire hair length or just to hair ends, and even spread on face. Of course, Nanoil Castor Oil can be applied solo too, especially to fingernails, eyelashes and eyebrows.
Do you know where to buy Nanoil Castor Oil?
In most cases we get castor oil from a pharmacy. It's worth realizing though that when used for beauty purposes, the oil has to be of the adequate quality so as to work effectively and prevent irritations. For that reason, it's advised to either visit a drugstore or order the oil directly from the producer by going on the official website (e.g. Nanoil Castor Oil).
Nanoil Castor Oil is the best choice to make if you're planning to strengthen and thicken your hair, eyebrows and eyelashes naturally. What's important, this oil can be also applied to skin to cleanse it, remove makeup or cure acne, to name just a few uses. It's cold-pressed, unrefined and carries Ecocert label, therefore it can be safely introduced into daily care. The biggest asset of Nanoil Castor Oil is its efficiency; this oil closed in a dark glass bottle lasts a few long months.
Advantages:
100% cold-pressed, unrefined oil
lack of preservatives, aromas and colorants
suitable for hair, scalp, body skin, eyelashes and more
solves skin ailments such as dandruff
slows down loss and accelerates hair growth
provides a few long months of use
Disadvantages:
hard to buy anywhere else than online