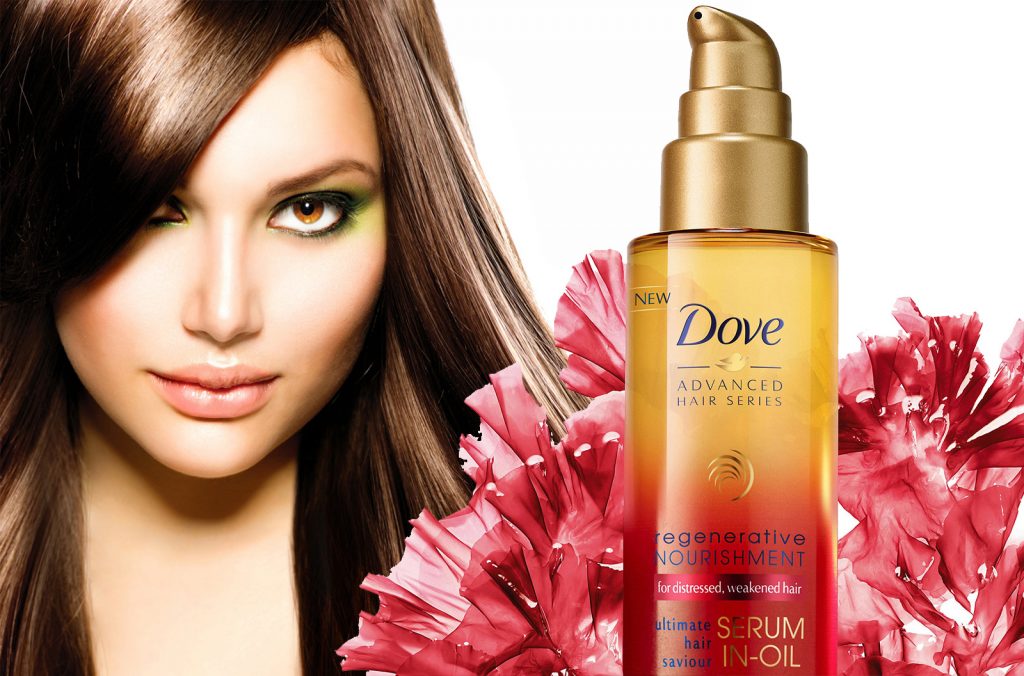 How to protect your hair from heat or pollution of the environment? Test Dove Serum-In-Oil! Effects and properties of the cosmetic will positively surprise you. If brushing and styling hair also causes some difficulties, you should begin the treatment as soon as possible.
However, before you do so, check out the cosmetic and what others say about it.
What are the effects and properties of Dove Serum-In-Oil?
Dove Serum-In-Oil is designed for the care of dyed, bleached or damaged strands due to hot temperature created while styling. The cosmetic is also recommended for girls whose hair ends split. And what kind of properties this product have? Dove Serum-In-Oil regenerates even the most damaged strands and nourishes the scalp. Brushing and styling hair becomes easier and faster. Thanks to this cosmetic, your hair will be stronger, healthier and less prone to chemical and mechanical damage. Oil acts both on the surface and the internal structure of our hair.
The composition of Dove Serum-In-Oil comprise several vegetable oils, perfumes, silicones and mineral oil. Palm oil softens and smooths hair. It has antioxidant and protective properties; perfectly moisturises and nourishes. Sunflower oil is responsible for shine of the wisps. Furthermore, this component strengthens brittle and falling out hair. While coconut oil and sweet almond care for you strands to retain proper moisture level and provide deep nourishment.
How to use Dove Serum-In-Oil?
Before the application, heat oil in the palms of your hands, then, apply it on your wisps. The dose depends on the length and thickness of your hair; slightly more cosmetic you can apply on the ends. Dove Serum-In-Oil is absorbed fairly quickly, so that your hair becomes smooth, soft and shiny. If you wish your hair was not poofy and static, use one pump of oil. Apply it to dry strands, then comb through and create your favourite hairstyle. The cosmetics has a semi-liquid formula, and despite the small capacity, it is enough for a very long time.
Do you know where to buy Dove Serum-In-Oil?
You can buy this oil in any store, stating from a drugstore, through large cosmetic wholesalers and ending at online auctions. Probably no other product is so easily available. And what about its quality? The price and opinions on Dove Serum-In-Oil are the best evidence of its amazing effectiveness. If you would like to use such a powerful oil, make sure to check the comments of bloggers. What is interesting, this is one of the cheapest products in this ranking.
Dove Serum-In-Oil is a cosmetic easily accessible. You can buy it in drugstores and on the Internet. However, before you do that, check the price and opinions – those may affect your decision. Both the activity and the properties of such a cosmetic are quite good. Methods of using the product might appeal to those who have problems with unruly wisps and troubles with styling. People with sensitive scalp or very damaged hair, should limit the application of Dove Serum-In-Oil to a minimum. Why? Because it contains silicones and mineral oils that prevent fast penetration of nutrients into the hair. They can also destroy wisps and irritate the scalp.
Advantages:
simple, application
includes natural oils
lasts for a very long time
has antioxidant properties
regenerates and nourishes hair
Disadvantages:
includes silicones and mineral oils
small capacity
results of the treatment remain for a very short time
can irritate very sensitive scalp
first effects appear after dozens of applications