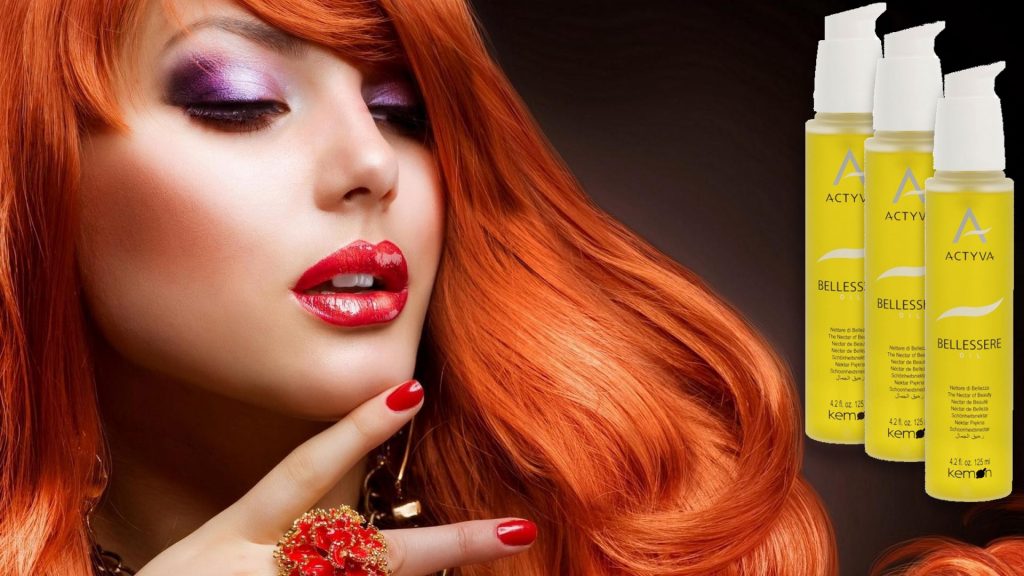 Straight, curly, long, short, blonde, black, or maybe red? Regardless of what kind your hair is, Kemon Actyva Bellessere Oil will nourish and strengthen it. Perfect consistency, antioxidants content, moisturising and protective properties. That is how you can describe this product. What is more, a simple application will facilitate the use the cosmetic.
Do not hesitate, begin your treatment today.
What are the effects and properties of Kemon Actyva Bellessere Oil?
Kemon Actyva Bellessere Oil is designed for the care of all hair types. It has regenerative, nourishing and protective properties. Its light texture facilitates every application and makes hair become prettier, stronger and healthier day to day. How does this oil work? It regenerates hair damaged by frequent dyeing, drying or straightening. It protects it from free radicals, pollution from the environment and solar radiation. Kemon Actyva Bellessere Oil prevents hair loss and premature graying. Additionally, it ensures smoothing, moisturising and nourishing properties and improves resilience. It makes your hair silky soft and shiny.
What is Kemon Actyva Bellessere Oil composed of? We will find argan oil and flaxseed oil in it. The first of the components has antioxidant, strengthening and beautifying properties. It contains vitamin E and omega-6, which care about the proper condition of strands and scalp. The second of the ingredients, linseed oil, ensures proper hydration of the hair, and also smooths and polishes.
How to use Kemon Actyva Bellessere Oil?
Kemon Actyva Bellessere Oil has a typical for this kind of products – semi-liquid consistency. Did you know that the product can be used on daily basis? Oil can be applied on wet or freshly dried hair. This way you will facilitate drying and brushing, or prevent strands from static and frizz. For nurturing, beautifying or styling, two pumps of oil are enough. Squeeze the cosmetic on the palms of your hands and warm it up. Spread evenly starting from the ends of strands and ending at its middle parts. Oil is absorbed very quickly, and you will be able to take care of your hairdo.
Do you know where to buy Kemon Actyva Bellessere Oil?
You can buy Kemon Actyva Bellessere Oil on the Internet and in some wholesalers selling cosmetics and hair treatments. Oil is also available in some stationary shops and hair salons cooperating with this brand. The price of Kemon Actyva Bellessere Oil is based on the composition of the cosmetic. We will find argan oil and linseed oil in it. These two substances affect positive feedback about the product.
Probably many of you are satisfied with the fact that Kemon Actyva Bellessere Oil comprise argan and linseed oil. The effects of such product are truly sensational and the use – very easy and fast. Already after the first few applications, you will notice that there is no better product than this one. Smoothing, nourishing and strengthening are just some of the properties why you will like Kemon Actyva Bellessere Oil. If you want to see for yourself how this oil works, start this treatment today. Surely, positive feedback, which you can find on the Internet will definitely help you to decide on buying. Also, remember that the price may depend on the place where you are planning to buy the product.
Advantages:
contains argan and linseed oil.
neutralizes free radicals
strengthens hair and nurtures scalp
has smoothing properties and provides shine
nourishes and beautifies any type of hair
Disadvantages:
on sale in only some hair salons and shops or online
inefficient
way of application: from the ends upwards
is quickly absorbed and does not leave a protective coating on the surface of hair