Summer loves hair of blonde shades. Unfortunately, this hot season seems to be difficult for strands that are prone to damages. How to make dreams of blonde, shining mane come true?
Thanks to John Frieda novelties, no season will be an obstacle preventing us from getting the hairstyle we want. Just take a look at them!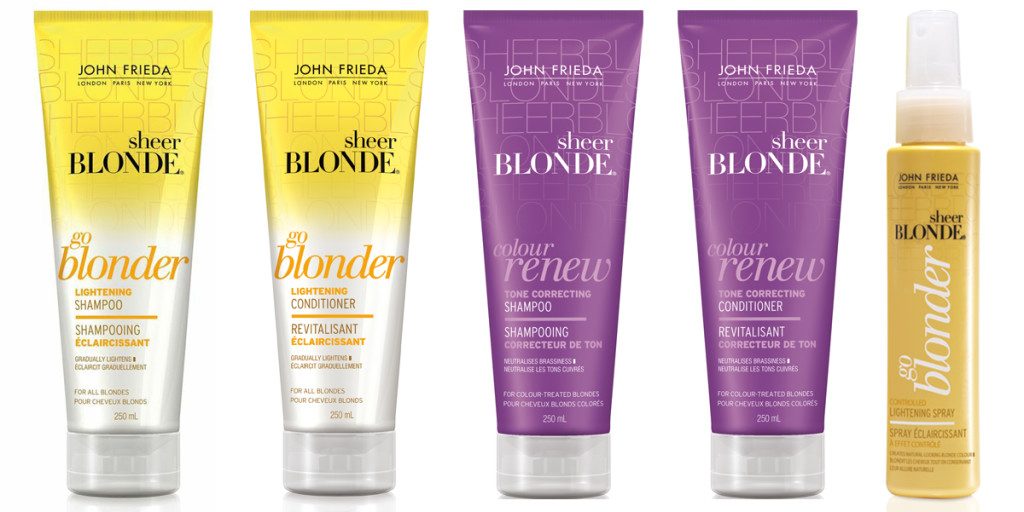 John Frieda is a brand that has been launching professional hair care cosmetics from over 25 years. Perfectly groomed hair of intensive colour adds sex appeal and beauty to every woman. Take care of your new summer look thanks to set of John Frieda's Sheer Blonde cosmetics.
VIBRANT COLOUR
Keeping lightened up hair in a good condition is a fairy tough task. Fair hair is demanding, which is a fact well-known to all blond strands owners. In order to get the best out of blonde hair and to preserve its straight-from-hairdresser look, it is worth choosing John Frieda Sheer Blonde Highlight Activating set. Shampoo and conditioner are developed in such a way to help with maintaining healthy shine and visibility of blonde reflexes on hair even up to a few weeks after the hairdresser's procedure. What is more, natural blonde females can also take advantage of the products if they want to eliminate the effect of dull hair; to bring healthy, sunny shine back to strands.
COLOUR REACTIVATION
It is inevitable to halt the process of hair getting dull together with the passing time. Plenty of factors have influence on this, and there is not much we can do about hair loosing its shine. Fortunately, John Frieda Sheer Blonde Colour Renew product will help us say goodbye to dull hair. The set proves that impossible is nothing. Both shampoo and conditioner are a duet of care products that effectively counteracts fading of hair colour and makes the shade stay true for longer. Colour reactivation maintains intensity of blonde right after hair lightening up procedure for longer than usual.
AS PLAIN AS DAY
A few weeks since hair lightening up procedure hair loses its natural and healthy shine, as the first roots start to become visible. Such aftermath is upsetting since it can overshadow even the most beautiful blonde that is still there, on the lengths. The set of John Frieda Sheer Blonde Go Blonder cosmetics is the perfect solution for roots that highly contrast with the blonde hair. This set consists of four products: shampoo, conditioner, spray and mask. These cosmetics have hair lightening-up action and can make the colour of roots even two tones brighter. Moreover, the products nourish, regenerate and restore healthy shine.
ACTION REGENERATION
Platinum hair is a dream of many women. Unfortunately, the stronger hair brightening, the greater damage is done to the strands. Intensive lightening up can deteriorate hair condition, therefore it might be necessary to buy John Frieda Sheer Blonde Hi-Impact set. Its task is to restore health to lightened-up hair. The set consists of smoothing shampoo, protective conditioner, regenerative oil with sunflower extract as well as intensively regenerating hair mask.